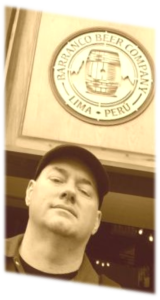 by VeRn
I am currently on a trip from San Diego California to Norfolk Virginia, onboard the USS George Washington (CVN-73) we are taking the ship down around South America to get a major overhaul in Virginia. But enough about the minor details you are here to read about beer!
Sunday October 04, 2015 – Lima, Peru.
A friend and I headed off the ship destined for the Barranco Beer Company located in the Barranco district of Lima.
An area known for its artistic qualities, seemed like an ideal place to find some craft beer. Not to mention I knew it was there, as I had done my research!
We arrived via Taxi after being sent off by a Spanish speaking shipmate who got the cab pointed in the correct direction and haggled the price before we were off. Coming off a ship from San Diego, I expected to find more people from the ship in the brewery, but it was mostly deserted upon our arrival.
We took some seats at the bar and went right for a flight to give everything a try! Due to a bit of a language barrier I am not certain of the exact order of the tasters but I will make my best guess based on the info from their website: barrancobeer.com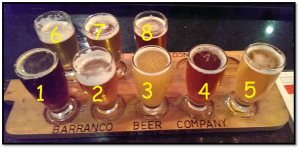 Unfortunately I do not think the list they have posted on their website directly reflects the beers I tried here are the ones I know for sure, I will start with the description from their website and continue with what I thought:
1. BULLS RED (amber) 5.3%, 21 IBU Amber ale, light and refreshing with caramelized and malty notes.– I found this one to be quite underwhelming and a disappointing start, but probably a smart one as they could only get better from there. Although their description talks of malty notes, I found this kind of watery and weak, not what I am used to in an Amber.
2. PALE X (pale ale) 5.4 %, 33 IBU Deep golden color, with 8% rye and Citra aromatic hops.
I was looking forward to this one, with Rye & Citra mentioned in their description I was very hopeful. The flavor was quite nice but the hops character I was hoping for just was not present, don't get me wrong for an east coast pale, it would have been fine but this would not be overly appreciated in So-Cal.
3. JEFE WEISS (Hefeweizen) 4.8%, 14 IBU Classic Hefeweizen made with wheat and malt, fruity aroma and easy to drink.– Was very good for a "Hefe", but for me not being the big "Hefe" fan,although I could tell it was well done, but just not my style of beer.My travel companion was quite impressed and happy with it as he is a "Hefe" fan.
4. AMARGU-IPA (ipa) 6.5 %, 45 IBU Golden with marked hoppiness, medium body and a tropical fruity aroma.– They call it an IPA but at only 45 IBUs this one came in much closer to a West Coast Pale, but it could pass as an East Coast IPA for sure. I did like it enough to go for an entire glass to go with my pizza.
Unfortunately that is all I can recall of the tasters I had, even if I could remember what I had I don't think I could match it to its description on their website. I am almost certain that one of them was their Octoberfest, but again it just was not a stand out.
The Food, was very good I had Corn & Cheese Empanadas (which could possibly have been cooked a bit longer) and this amazing Pizza called:
FUGAZZA DE CEBOLLA–(Onion Pizza)
White onion, garlic, oregano, olive oil
(without tomato sauce).
Over all I was very impressed with Barranco Beer Company as a whole, the place was clean, including the rest rooms which we know can become very important to us beer drinkers. The service was outstanding our waiter was very attentive and understood a bit more English then the guy behind the bar. A must try if ever in Lima, Peru.
About the Author:
Christopher "VeRn" Varney is a 24+ Year US Navy Service member, currently a Senior Chief Petty Officer stationed with the HSM-78 BlueHawks an MH-60R helicopter squadron based at NAS North Island, Coronado California. He was introduced to craft beer just a few short years ago by his girlfriend who also is a big craft beer fan.
"I am a big Pale Ale drinker as I enjoy the flavor of Hops but I am not a big fan of the bitterness reached in most IPAs, but a balanced and not to bitter IPA I do appreciate"
(Some Of) My favorites (In no Particular Order):
From Black Market Brewing, Temecula CA
Aftermath- This was originally labeled as a Pale Ale but they recently decided to re-label it as an IPA, for reasons I am still unsure of, perhaps a future blog post!
RYE IPA – this was the one that made me unafraid to try IPAs this one is not bitter at all their use of Rye mellows everything out and just makes for an overall smooth experience.
From Aztec Brewing Company , Vista CA
Chipotle IPA – The impeccable addition of the Chipotle mellows out this IPA giving you a smooth extremely drinkable beer with just a touch of spiciness and smoke from the Chipotle.
Hop Serpent – An Imperial IPA with great Hop flavor without hitting the bitter. This is a smooth one that is a bit higher on the ABVs so it can sneak up on you! Drink carefully and don't get bit by the Hop Serpent!